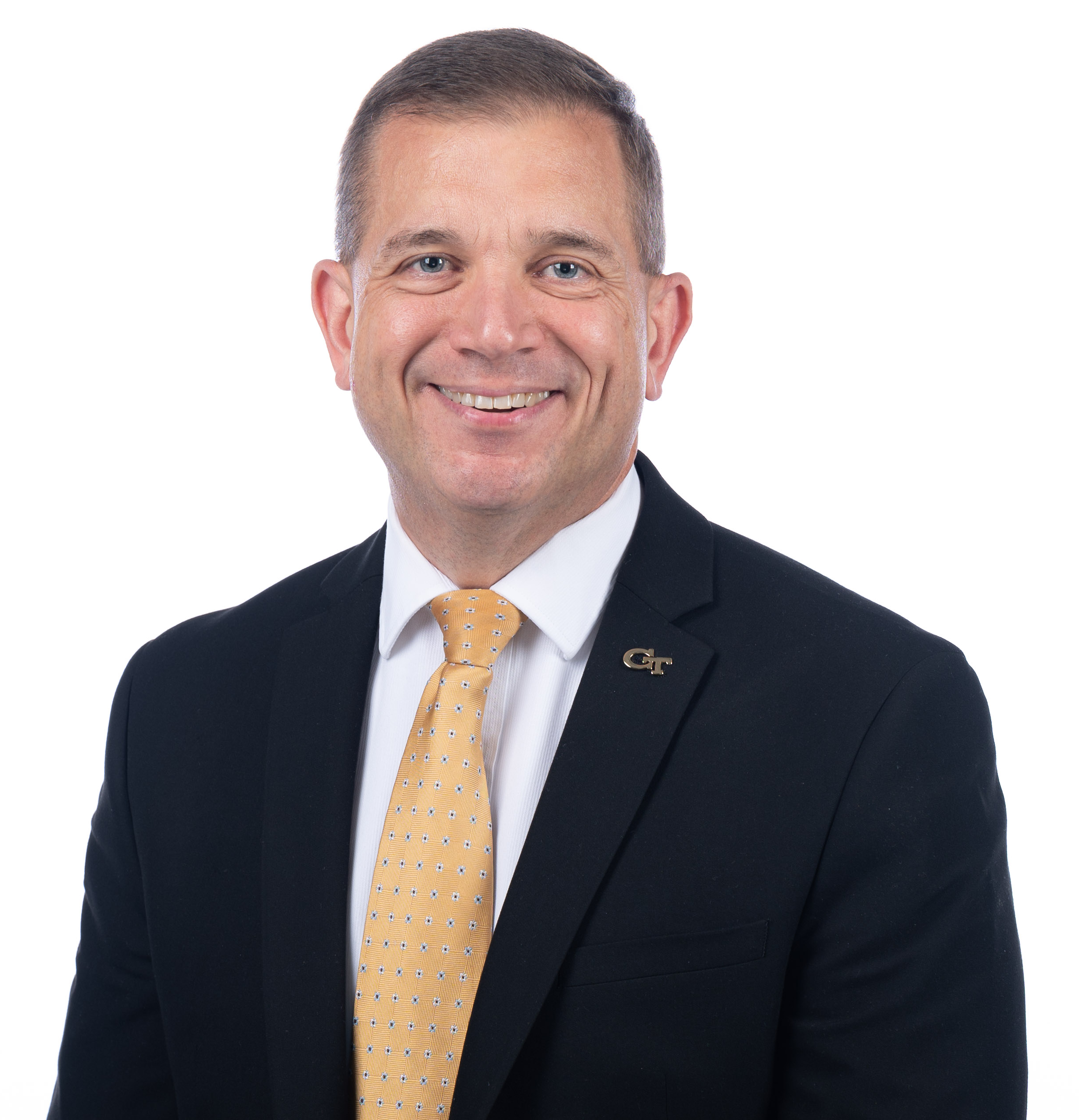 Michael P. Shannon,

Ph.D.
Interim Executive Vice President, A&F
Interim Chief Business Officer
Michael "Mike" Shannon brings nearly three decades of service in the military, industry and higher education to his role as Interim Executive Vice President for Administration and Finance and Interim Chief Business Officer for Georgia Tech.  Mike has dedicated his career to leadership and investment in lifelong learning through his service as an Army officer, as a faculty member at both the United States Military Academy (West Point) and Georgia Tech, and as an executive leader at Georgia Tech.
In his current role, Shannon is a member of the Institute's Executive Leadership team and is responsible for the strategic leadership and operations of Georgia Tech, one of the fastest-growing public research universities in the nation. He has oversight of administrative functions that serve the Institute including human resources, finance, budget and planning, information technology, facilities and infrastructure, capital planning and real estate development, campus security and emergency response. Shannon also provides executive leadership to several initiatives designed to build a student-centered focus in Administration and Finance as well as ensuring Georgia Tech is an employer of first choice and best place to work for veterans of the U.S. armed forces.  He also serves on numerous boards including the Georgia Tech Foundation, the Georgia Tech Athletic Association, Georgia Applied Technology Ventures, Inc., and the Midtown Alliance. In addition to his executive leadership role, Shannon holds a faculty appointment as an Adjunct Assistant Professor in the George W. Woodruff School of Mechanical Engineering where he continues to teach at the graduate level and conducts research in his areas of expertise.
Prior to his current role, Shannon served as a research faculty member and principal investigator within the Advanced Concepts Laboratory at the Georgia Tech Research Institute (GTRI). His last leadership role at GTRI was Chief of the Advanced Warfighting Technologies Division where he led a diverse team of faculty researchers executing multi-million-dollar programs in ground maneuver warfare and nuclear, biological and chemical sciences research. This unit was formed from the GTRI Counterproliferation Technologies Program Office which Shannon established in 2017.
In 2015, prior to joining GTRI, Shannon was the Vice President for Strategic Development at Hopewell Designs Inc. where he led the development of business in advanced neutron and gamma-ray sources, medical support systems, and complex shipping containers. During this time, Shannon also served as a Visiting Assistant Professor at Georgia Tech.
Shannon served as a commissioned officer in the United States Army for 20 years, retiring in 2015. After operational Army service as an Infantry and Signal Corps officer with assignments in the 82d Airborne Division, the 35th Signal Brigade (18th Airborne Corps), and the 2nd Infantry Division, he was selected to serve as a U.S. Army Nuclear and Counterproliferation Officer. For over 10 years, he provided leadership and technical and operational expertise to the DoD's Counter Weapons of Mass Destruction enterprise including numerous research and development activities, service as an expert in nuclear technology issues, and development of human capital for the Department of Defense. 
Shannon served at the U.S. Military Academy at West Point during two different leadership assignments, as an instructor and later as an Assistant Professor within the Department of Physics and Nuclear Engineering.  While at West Point, Shannon was actively engaged in teaching, conducting research, and multiple activities in support of cadet and Army officer development including mentoring cadets on the Army football team, Army branch mentoring, and preparation for the Sandhurst Military Skills Competition.
Shannon also held leadership assignments with the Defense Threat Reduction Agency (DTRA) where his work included leading multiple large teams conducting multi-million-dollar research programs in support of the Global War on Terrorism. Shannon has extensive experience working with the US Government interagency including both the Department of Homeland Security and the Department of Energy/National Nuclear Security Administration (NNSA).  He led research and experimental programs at several Department of Energy Laboratories including Los Alamos National Laboratory, Lawrence Livermore National Laboratory, Idaho National Laboratory, and the Nevada National Security Site where his teams' delivered concepts and capabilities to U.S. Special Operations Command.  While at DTRA, Shannon also led efforts to recruit highly qualified officers across the three DoD service academies for service in the DoD nuclear and counterproliferation enterprise.
A native of New Jersey, Shannon is a first-generation college graduate and was commissioned through Army ROTC. He earned his bachelor's in aerospace engineering and masters in aeronautical science from Embry-Riddle Aeronautical University and a master's in health physics and a Ph.D. in nuclear and radiological engineering from Georgia Tech. Mike met his wife Jessica, a U.S. Air Force veteran, while they were both assigned to Fort Gordon, Georgia.  They are the proud parents of four children. Mike continues to serve a number of veterans causes, is an active member of his church, and serves his local community as a coach in multiple youth sports programs.