The Ethics Programming and Education Council strives to connect members of the Administration and Finance (A&F) community with opportunities to live our values in practical, meaningful ways. The Council is comprised of representatives from across A&F.
Carla Cook, Interim Deputy Chief of Police 

Cedric Franklin, Director of Budgeting and Finance, Human Resources
Juan Hunt, Area Maintenance Manager, Infrastructure and Sustainability

Melanie Megenity, Senior Director of Resource Management, Information Technology

Maurena Maynor, Associate Controller, Finance and Planning 

Rachael Pocklington, Program Director for Strategic Communications and Initiatives, Institute Communications 

Kelly Cross, Institute Policy Manager, Office of the General Counsel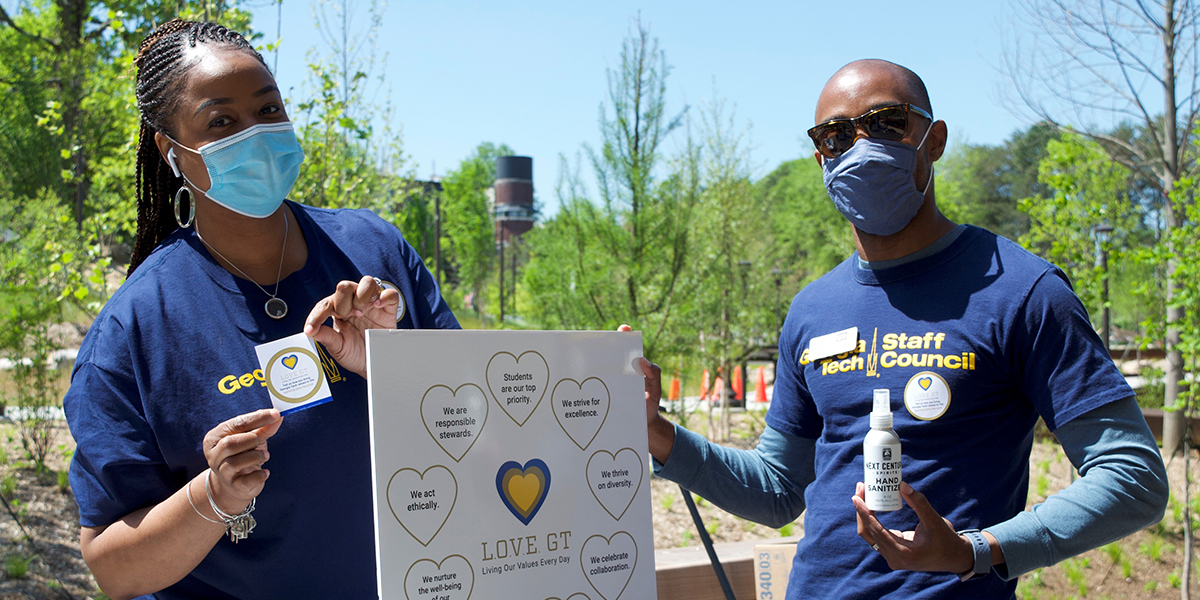 L.O.V.E. GT
The Living Our Values Every Day (L.O.V.E. GT) 
campaign advances the values that are central to the Georgia Tech strategic plan, which drives us to increase the impact we have in the world – through ambitious goals and bold actions. 
The working group, with the help of the campus community, is identifying practices and examples of how we should live our values every day in order to help us focus on our shared mission and achieve the goals envisioned through the Georgia Tech strategic plan.
Understanding Conflict of Interest Disclosures
On Sept. 22, the A&F Ethics Programming and Education Council (EPEC) hosted a virtual conversation with Aric Edwards, Conflict of Interest Manager, to help staff and managers understand disclosure requirements and best practices.
Feedback Wanted
Our goal is to develop meaningful programming for the A&F community and we need your help. Please take a minute to provide your thoughts on this panel discussion about conflict of interest disclosures.
Previous EPEC Recordings:
Navigating Vendors: Can I Eat This Lunch?
---
On May 11, the A&F Ethics Programming and Education Council (EPEC) hosted an in-person discussion with Interim Senior Director of Business Services Ajay Patel and Deputy Chief Ethics and Compliance Officer Melissa Hall. They shared  information about to what employees can say "Yes," reflected on lessons learned in their respective fields, and answered questions from the audience.