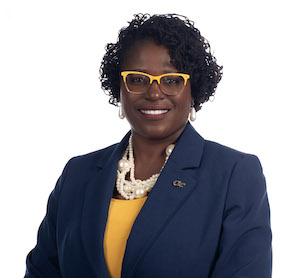 Dr. Shantay N. Bolton
Executive Vice President for Administration and Finance
Chief Business Officer
As the executive vice president for Administration and Finance (A&F) and chief business officer, Dr. Shantay (Sh-Ann-Tay) Bolton joined Georgia Tech on Aug. 14, 2023, to serve as a member of the Institute's executive leadership team and lead in developing administrative and operational strategies across the enterprise in support of Georgia Tech's strategic plan. She provides leadership, oversight, and direction for A&F, which includes fiscal management and reporting; budgeting; human resources; business services; campus sustainability; facilities planning, design, construction, maintenance, and operations; campus safety; information systems and technology; and real estate development. More than 1,500 staff report through A&F.  
Prior to joining Georgia Tech, Dr. Bolton's higher education experience included serving as executive vice chancellor and chief administrative officer at Washington University in St. Louis where she provided strategic counsel to university leadership, established the WashU Institute for Leadership Excellence (ILE), and served as the key point person for university operations. In addition, she was the vice president and deputy chief operating officer at Tulane University and founding director of the Tulane Leadership Institute (TULI). Dr. Bolton's professional experience also includes serving as vice president of Human Resources and deputy Title IX coordinator at Tuskegee University.  
Dr. Bolton has served as a board member for the American Association of Blacks in Higher Education (AABHE); on the Society for Industrial and Organizational Psychologist Anti-Racism Grant Subcommittee; and is the creator of E3©: Engage, Educate, Empower – an Action Learning Model for Employee Engagement and Coaching, which she has used to build teams in government, corporate, higher education and nonprofit organizations. 
Dr. Bolton is a Certified MBTI Practitioner, Executive Coach (ICF-ACTP), Business Coach (ICF-ACTP), Organizational Development Certified Professional (ODCP), Lean Six Sigma Professional and de Bono 6-Thinking Hats/Parallel Thinking Trainer. She earned a B.A. degree in Psychology (2002) and a M.S. in Counseling Psychology (2006) from Alabama A&M University. She received her Ph.D. in Organizational Psychology (2010) with a concentration in Industrial Psychology from Walden University and a MBA in Corporate Business (2014) from Florida International University.